LIFE CLIMATREE Final Conference
LIFE CLIMATREE Final Conference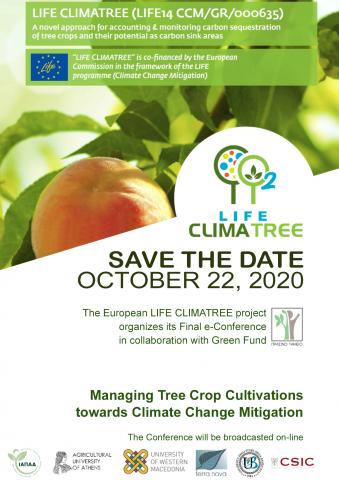 LIFE CLIMATREE Final Conference: Managing TREE CULTIVATIONS for CLIMATE MITIGATION
Tree orchards can act as an important sink for CO2 and hence contributes significant to climate change mitigation due to their ability to serve as a carbon pool. This mitigation potential depends on the cultivation and management practices. 
In order to explore the mitigation potentials of orchards the LIFE  CLIMATREE project 
attempts to:
•    Investigate the CO₂ balance of tree cultivations
•    To evaluate and rank different cultivation practices in terms of CO₂ sequestration
•    To develop a simple, but scientifically rigorous, e-tool permitting operational     estimates of the CO₂ sequestration in different conditions. This tool will address the     relevant needs of agronomist, farmers, decision makers and the public
•    To propose management practices and cultivation methods that result in rich     mitigation potentials
•    To enrich agricultural policies with climate objectives which enhance the     competitiveness of the agricultural sector
•    To update the CO₂ national accounts of the Mediterranean countries. National     inventories for Greenhouse Gases
LIFE CLIMATREE demonstrates the important, still ignored, mitigation potentials of tree cultivations. 
Tree cultivations are significant for farmers, rural development, social cohesion, biodiversity, climate. Their contribution is investigated by LIFE CLIMATREE with specific relevance in the conditions of the Mediterranean. Under the restrictions imposed by the coronavirus epidemic the final conference of LIFE CLIMATREE will take place at 22 October 2020 as a virtual event in collaboration with the Greek Green Fund. 
Register for your active participation in the conference to the following link:
 https://forms.gle/eFZjqkKDgqqzaQ8V6
Informations: 
Kostas Bithas (Coordinator of the project)
 E-mail: kbithas@panteion.gr
Tel.: 0030 210 9247450, 0030 210 9248781